Hello !
You are here on the website from " Guitarreria .eu "
We wish you a warm welcome in this place dedicated to the passion of quality acoustic guitar
" Guitarreria .eu " is not just another commercial shop but an association of professionals sharing this same passion for the craft of luthier of the highest level
This exists thanks to their patience and researches in order to introduce guitar makers less known of general public and whose exceptional works are really to be discovered
This concept exists thanks to the patience and research of a passionate professional,
Jean-Marc De Beys, luthier himself, in order to present luthiers well known or less known to the general public, whose work is really worth seeing
THE place -unique in Europe-
more than 100 luthier guitars available !
" Guitarreria .eu " --- unique concept in Europe --- currently presents more than 100 luthier guitars available ... and ... the site is so far having more than 500 pages .... and more than 4000 pictures
Specifically centred on top-range guitars we present you here carefully selected instruments
This website is always "under construction" ... sometimes hard to follow between our journeys visiting guitar makers
nevertheless it is including more and more pages, day after day, presenting classical and flamenco guitars that we have the pleasure to show you
In addition, with the time we will try to provide also more information about the art et technique of lutherie in order to also discover these fascinating alchemies
Please take the time to read our pages "Luthiers" et "Philosophy" in order to understand our goals
Also, on the page "Others" you can find interesting link's to artists and events ...and others
We give the priority to answer your numerous questions, to give you all the time needed to try the guitars here on the spot, your special orders, and so on ... also -essential- our researches
In the same time we try to handle as soon as possible the updates of the website but please we ask you to excuse us for the inconveniences such as missing translations (the site is originally created in French language) so sorry indeed if all pages are not translated in English, but you can indeed use a web translation tool (such as the Google Tool) to read our pages in many other langagues
Here as at the place of each craftsman we do "all by myself" "with a little help from my friends"
We sincerely hope to offer you here a beautiful journey through the extraordinary world of the best lutherie's of classical and flamenco guitar
Wishing you to find here what every guitarist is looking for... "the" guitar of your dreams !
Thank you for visiting our website. At your disposal, just come to meet us and try all these guitars
Sincerely yours.
JM ...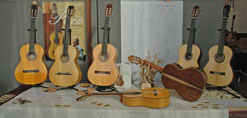 xxxxxxxxxxxxxxxxxxxxx xxxxxxxxxxxxxxxxxxxxx xxxxxxxxxxxxxxxxxxxxxxxxxxxxxxx xxxxxx xxxxx